Jamaican Grilled Sweet Potatoes
Rita1652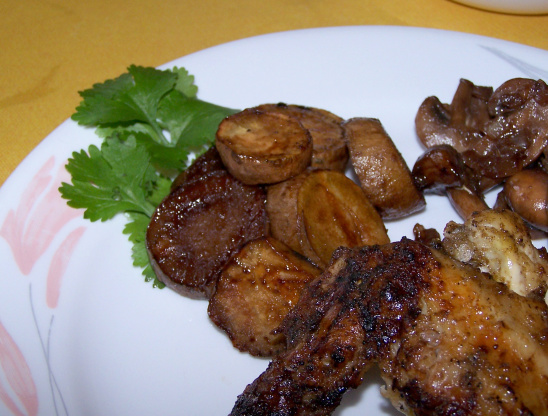 This recipe is in the Favorite Brand Name Recipes book for the George Foreman Grill. This is a great way to fix sweet potatoes, spicy and sweet. These can also be cooked outside on a gas or charcoal grill.

Sooooo yummy! Took too long on the grill so I broiled them in the oven for a few minutes! Will do these again!
Prehat grill for 5 minutes.
In a small bowl, combine the brown sugar, ginger, and 1 Tbsp of the butter; mix well.
Stir in molasses, pineapple juice, almond extract and cilantro; set aside.
Melt the rmaining butter and brush both sides of cut potato slices.
Grill for 8 to 10 minutes or until tender.
Spoon the molasses mixture evenly over cooked potato slices and serve.
When preparing outside, I use my pizza crisper pan to place sweet potatoes on and baste them lightly with sauce during cooking process.