FolkDiva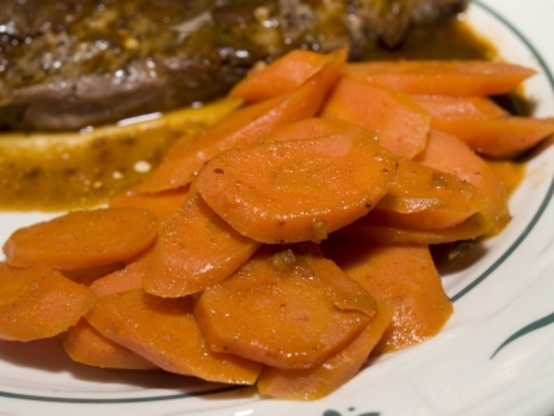 A sweet, spicy carrot side dish.

Really good flavor, I went a little overboard on the chili powder because my husband really likes hot foods, a little too hot for me but he claimed it was the best thing he had eaten since the lemon soup in Thailand (he judges how good food is by how much he sweats while eating it) When I make it for guests I will follow the recipe. Always looking for new ways to cook carrots and chayotes, they are cheap here in Nicaragua.
In a medium saucepan, add the carrots and cover with water; bring to a boil over medium-high heat. Cook, stirring occasionally, for 10 minutes, or until the carrots are fork-tender; drain and place in a bowl; set aside.
In the same saucepan, over medium heat, melt butter. Add the brown sugar, hot pepper sauce, lemon juice, orange juice (or pineapple juice), cumin, garlic, and chili powder.
Cook, stirring, for 2 to 3 minutes, or until the sugar bubbles and the spices are fragrant.
Add the cooked, drained carrots; toss to coat the carrots with the sauce.
Season to taste with salt; serve.