PaulaG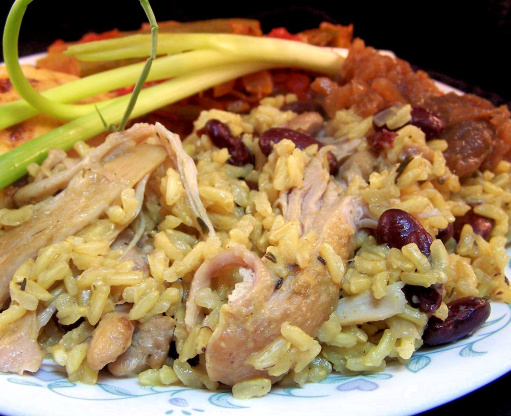 The idea for this recipe came from the book Nourishing Traditions by Sally Fallon and Mary Enig. The way I make it these days, however, is not much like the recipe in the book :) This is a really tasty, very filling, "meal in a bowl" type recipe. It has all the creamy, starchy goodness of macaroni and cheese but with no dairy! Coconut milk provides vital medium chain fatty acids and beneficial saturated fats to your diet, as well as tasting absolutely delicious. 3 cups of liquid to 1 1/2 cups of rice will make a risotto like consistency. If you want a bit more sauce increase the liquid to 3 1/2 cups total.

Great. Easy. The rice ( I used basmati ) was mushier than I prefer so I'll cut down on chicken broth next time. I didn't add the kidney beans - tasted it both ways and liked it better without. Added some steamed green peas. Will keep and use again. Thanks, Jan
Heat the oil in a deep skillet or medium sized saucepan with a good lid to medium high.
Salt and pepper the chicken thighs and place them in the pan, skin side down.
Brown both sides of the chicken thighs and then remove from the pan and keep warm.
Adjust the fat in the pan by removing some or adding some and add onions to the fat in the pan.
Sprinkle with salt, pepper, thyme and curry powder and saute until they start to soften.
Add rice and stir to coat the rice with the oil and seasonings.
Add the liquid to the pan and raise heat to high.
Scrape the bottom of the pan to get up the crusty bits and incorporate everything together.
When the pot boils nestle the browned chicken into the rice and put the lid on the pan.
Turn heat down to low and let simmer for 45 minutes or until rice is tender and chicken is cooked through.
Remove chicken from the rice and remove skin and bones.
Shred meat and return to the rice.
Add beans and any vegetables, stir to combine and let sit over low heat to warm the beans and vegetables.
Serve with pineapple or mango chutney and a big green salad!