gailanng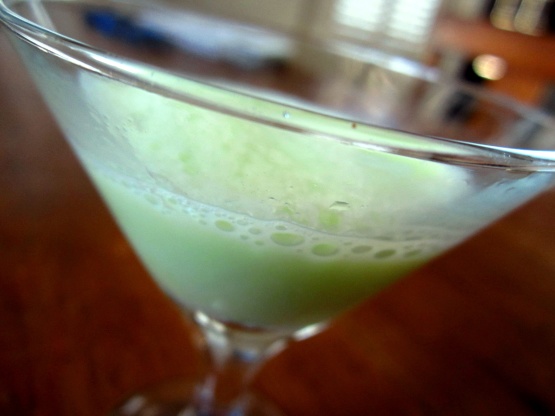 Bartender from House of Blues made this up - great summer drink.

I'm not much of a drinker, but when I do drink, I definitely gravitate towards the fruity, sweet, chick drinks like this one (now that I think about it, when I do drink, it tends to be during PAC and ZWT, hmmm...I think I'm a PAC-olholic, lol). I added some extra pineapple juice to this, because I needed to cut the banana flavor, but I went into this knowing that the banana might be too much for me. I've been trying to chip away at a bottle of 100 Bananas liqueur that I had bought for ZWT a couple years ago, but I've yet to find any drink where I didn't find the banana flavor a tad overpowering, so it's no fault of the recipe. Luckily, the extra pineapple juice and some crushed ice did the trick, and the assertive banana flavor was sufficiently tamed for me. Even with my mild aversion to the banana liqueur, I still enjoyed all the other tropical flavors in this, and I think this would be a perfect girls-night-out libation for those who do like banana liqueur. Thanks for posting! Made for PAC Spring 2013
1

ounce Midori melon liqueur
1⁄2 ounce banana liqueur
3⁄4 ounce Malibu rum
1⁄8-1⁄4 fluid ounce pineapple juice, splash
Mix liquers and juice in glass.
Fill remaining glass with half and half.
Shake.