Prep 15 mins
Cook 30 mins

Found this Caribbean twist to a great winter time dish! This can also be prepared with out the meat or using ground turkey. My family loves it! Also brought it to work and they raved!
Directions
Brown ground beef over medium high heat in a large, deep frying pan.
Drain off fat and set aside.
Coat a large dutch oven with cooking spray and place over medium high heat.
When pan is hot add the olive oil and cook the onion and garlic until the onion is tender, then add the peppers and cook until tender.
Season with the cumin, paprika, chili powder, sugar, salt and cloves.
Stir in the canned diced tomatoes, and the drained cans of beans.
Add water to cover all.
Bring to a boil and then stir in the meat and tomato paste.
Bring to a boil and then simmer 30 minutes.
Remove from the heat and stir in the vinegar.
May serve with chopped fresh cilantro as decorative topping.
Most Helpful
Had success with this recipe! The name drew me in, but the combination of ingredients and the results will bring me back to this one. The only substitution I made was a can of fat-free refried beans in place of the cannellini beans, I figured it would thicken the whole mixture (it did). Thanks!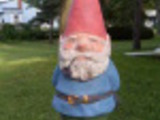 This was great. I made it for a small dinner party and they all liked it a lot. I subbed butternut squash small dice for the yellow pepper and after simmering, I added more salt, some oregano and a liberal teaspoon full of granulated garlic. The flavors are great! Next time I'll add more minced garlic in the beginning. Thanks for the keeper!

this chili is awsome! i used hot paprika and mexican chili powder but found it needed some tobasco for my taste. i also increased the salt to 3tsps kosher and a 1/4 cup of miced garlic (this is a big dish). when i added the cloves the smell was so strong i was afraid i ruined the dish because i don't like cinnamon and meat but it blended in nicely and accentuates the natural and added sugars in the dish. the final addition of balsamic vinegar creates a wonderful mild sweet and sour flavor. if you don't add the balsamic vinegar you will be making just another chili (so don't bother).