Jam/Jelly Filled Butter Cookies
CoffeeB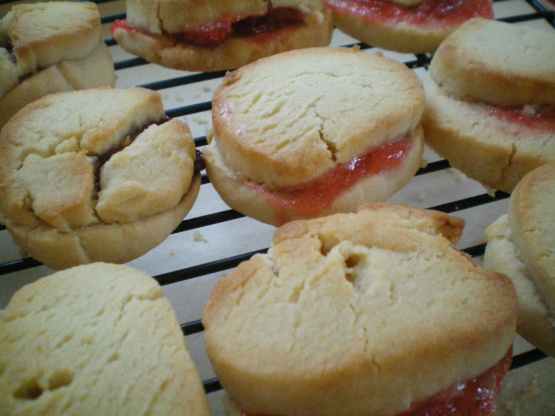 My mom made these excellent buttery rich cookies. They are a soft cookie that melts in your mouth. They are excellent with any kind of jam but chokecherry or raspberry jelly are my favorites. I don't know how many this makes as I always double the recipe and they get eaten so fast I've never had time to count. Refrigerate the dough for three hours minimum, or make in batches days apart.

Top Review by obster
Tasty cookie for sure! Instead of making a sort of sandwich, I baked for 5 min, used my index finger to indent each cookie then added strawberry jam in the idention. Returned to the over for 5 more min. I also added chopped pecans when making the dough. Thanks!!!
IF USING SELF-RISING FLOUR REDUCE THE BAKING SODA TO 1/4 TEASPOON AND OMIT THE SALT.
Beat together the shortening and butter.
Beat in sugars well, then beat in the egg.
Add the dry ingredients, and mix well.
Shape the dough into two rolls 1 1/4" in diameter, sealing well in waxed paper.
Refrigerate for a minimum of 3 hours or overnight.
Heat oven to 400°F.
Slice dough into 1/8" thick disks.
Put 1/2 teaspoon of jam/jelly on half the slices, keep it in the center of the disk.
Top each disk with another slice and bake. You can sprinkle these with sugar for a crunchier cookie (optional).
Bake for 8 - 10 minutes.
Store in an air tight container once the cookies have cooled.