Saturn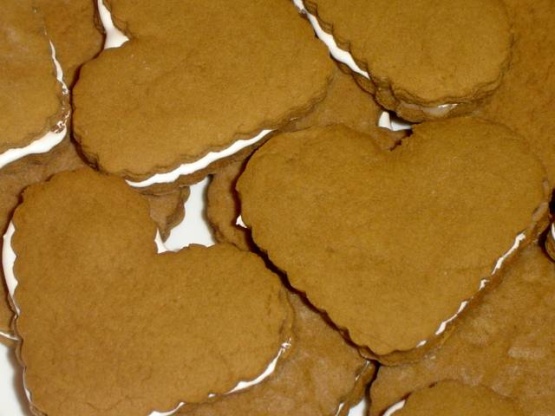 My good friend Leona gave me this recipe years ago when my children were all very small. They loved these cookies and so did I. Real good with a nice cold glass of milk.

Top Review by Saturn
Oct 17, 2005: These were a big hit! But I have to say that they were very hard to work with. It may have been that I used margarine instead of butter. I couldn't get the dough to go stiff. It was very oily. As I was rolling the cookies out, the dough was breaking up. I eventually got them rolled out and they cooked up like a dream in 10 minutes. I took these to my sons' school for the teachers and they all seemed to enjoy them. My son managed to snag a couple and he loved them as well. We used KITTENCAL's Homemade Marshmallow Fluff #75813 to "fill" them. If I were to use butter for these, I think it would turn out less oily. I will try them again with butter. The flavour was excellent and well worth the effort. UPDATE: I have now made these numerous times! I only use butter now. It is well worth it. My fiance rushes home from work whenever I make these. They are one of his favourite. My sons also get excited when they see the big lump of brown cookie dough sitting on the counter. I can't thank you enough for this wonderful recipe.
Cream together margarine and brown sugar. Beat in egg, molasses until fluffy.
Add soda with water, salt and vanilla.
Stir in eough flour to make a stiff dough for rolling.
Roll out 1/8th inch thick and cut into circles. (about 1 1/2 inches across).
Bake at 350*F for 8 to 10 minutes.
Cool on wire racks.
When cool put together in pairs with jam in the middle.