Jam Filled Oatmeal Cookies
Annacia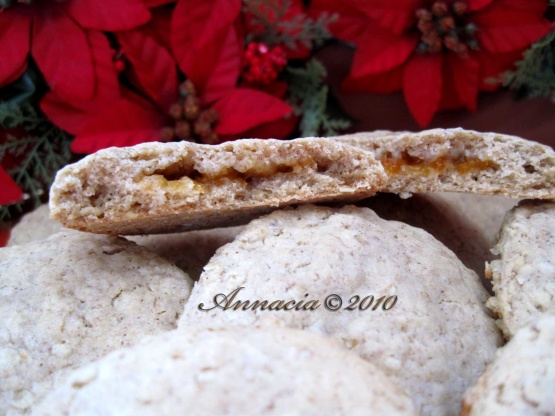 These cookies are so good, we love them. With and without the ground nuts. It's easy to vary the filling by picking the jam or nuts you prefer. I hope you will enjoy these delicious cookies.

Oh My Goodness! These cookies are a true treat. At 10 mins baking they are tender, flaky and so toothsome that you just want to keep munching and munching. They are simple and fun to make. If the dough should seem to be a little on the crumbly, don't add any more moisture as it will roll, cut and bake perfectly. I used sugar free apricot jam and it was a great tasting combo with the marvelous cookies. These cookies would be excellent as single cookies, as oatmeal or oatmeal spice. The cookies are A A+ winners and a real keeper. Made for Photo Tag.
2

cups flour, pastry

1

teaspoon baking soda

1

teaspoon salt

2

cups quick oats

1

teaspoon cinnamon

1

cup sugar, brown, dark
1⁄2 cup butter, soft, melted
1⁄2 cup shortening, melted (I use Crisco)
1⁄2 cup milk

1

tablespoon lemon juice
1⁄2-3⁄4 cup jam (Raspberry, Strawberry, Apricot, Blueberry, Date)
1⁄2-1 cup walnuts, ground (optional)
To make the sour milk, mix the milk and lemon juice together in a small bowl and set aside until needed.
Preheat the oven to 350 degrees.
In a large bowl add the flour, baking soda, salt, oats, cinnamon and brown sugar together.
Next add the melted butter and shortening, mixing lightly.
Lastly, slowly add in the sour milk, making sure to mix well.
Chill the dough for 1/2 hour.
Then on a lightly floured board, roll to 1/4 inch thick.
Cut the dough using a 2" round cookie cutter. Make sure to have an even number of cookie rounds.
Place a spoonful of jam in the center of the cookie, then top with another cookie.
Make sure to lightly press the edges together.
Roll the cookie edges in the ground nuts.
Place on a lightly greased cookie sheet and bake in a 350 degree oven for 10 - 12 minutes.