Jam-Filled Almond Muffins
CoCaShe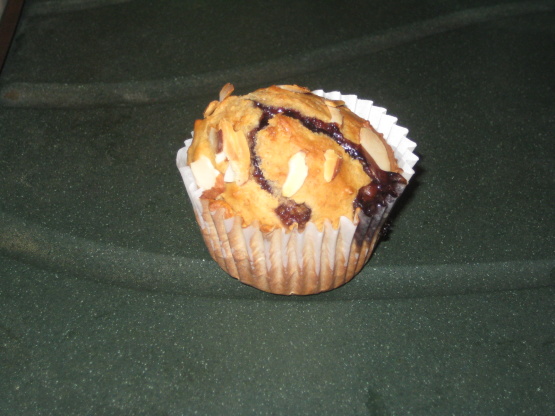 From Eating Well. Made these with 1/3 cup marmalade and they came out delicious! Baked for about 25 minutes at a 350F oven.

These muffins were pretty good. I baked them for about 20 minutes in a 400F oven, and used sugar-free wild berry jam which was very good. The only complaint is that the batter was quite thick, which meant that instead of flowing nicely around the jam filling when I was filling the muffin tins, the batter sort of squished the jam down and out (you can see in my pictures that the jam bled out, which looks beautiful!). Also, the parts of the muffin without jam are quite dry, while the jam seemed to have seeped into the batter elsewhere. Although they tasted ok and looked nice on the outside, I was hoping to have a nice jam-center when you cut or bite into them, so that's why the 4 star rating.
Preheat oven to 400°F Coat 12 muffin cups with cooking spray.
Whisk whole-wheat flour, all-purpose flour, baking powder, baking soda and salt in a large bowl.
Whisk eggs and brown sugar in a medium bowl until smooth. Add buttermilk, orange juice, oil and vanilla; whisk to blend. Add to the dry ingredients and mix with a rubber spatula just until moistened.
Scoop half the batter into the prepared pan. Mix jam and almond extract; drop a generous teaspoonful into the center of each muffin. Spoon on the remaining batter, filling each muffin cup completely. Sprinkle with almonds, then sugar.
Bake the muffins until the tops are golden brown and spring back when touched lightly, 15 to 25 minutes. Loosen edges and turn muffins out onto a wire rack to cool slightly before serving.