Hanka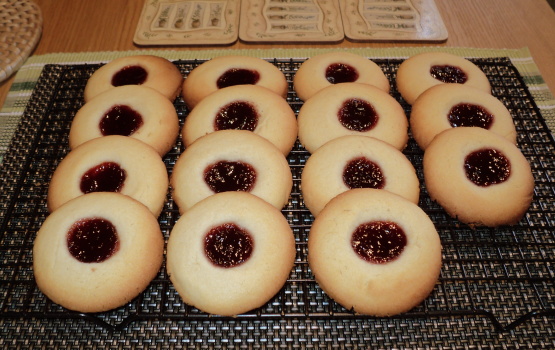 This old fashion biscuits are more popular than ever. You don't need any special equipment to make these. This delicate pastry will melt in your mouth and using your favorite jam is just perfect combination. I keep mine in cookie jar on a counter top as they look so pretty but they somehow disappear quickly :)

What an excellent recipe! Hanka, you sure are a great baker and you know how to teach others to bake delicious cookies, too. Your recipe was easy to follow and worked out beautifully. The dough was a dream to work with, came together quickly and baked into delicious cookies that everyone raved about. My only change was to use normal granulated sugar as I could not find powdered sugar. Maybe thats why my cookies spread a bit and didnt look as pretty as yours, but that didnt harm the taste at all and nobody really cared. :)
THANK YOU SO MUCH for sharing this winner with us, its a buttery, sugary delight that I will make again.
Made and reviewed for the Aussie/NZ Recipe Swap December 2011.
Preheat oven to 170°C.
Heap the flour and icing sugar on the work surface and make a well. Put in the butter, and mix with knife or small metal spatula.
When butter is almost incorporated add egg yolks and work the mixture with you fingers until you have a dough.
Using the palm of you hand, push the dough away from you few times until is completely smooth.
Roll into a ball, wrap in cling film and refrigerate for 30min.
Divide the dough into 15pc each about 40g.
Roll into a ball put on tray a press your thumb in the middle.
Fill with you favorite jam.
Bake 170C 10-12 minute.
Tip: I use Ziploc bag cut a small corner and pipe the jam into a hole.