Jalapenos - Bread & Butter Style
Kathy228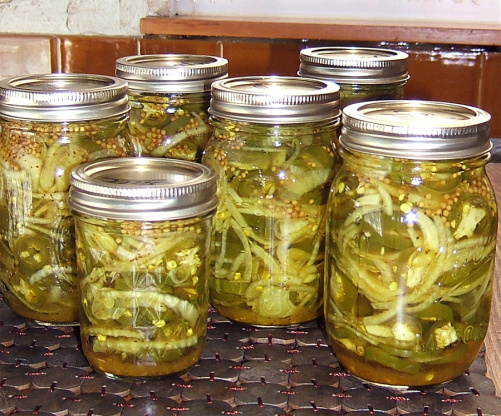 These are so good on a sandwich and even on scrambled eggs. The peppers don't feel that hot using this recipe. Recipe modified from a canning booklet.

Top Review by Z5370
Made these last summer and the men my DH works with loved them. One even asked if I would give him some to send to his son in Iraq. Said all the soldiers his son shared them with loved them. Getting ready to make them again. Thanks!!
Thinly slice jalapenos and onions and cold pack into jars. Use rubber gloves for handling jalapenos.
Place remaining ingredients in large pan and bring to a boil.
Pour hot mixture into jars, over the peppers and onions, leaving 1/4 inch headspace. If you run short of the juice, top with boiling water.
Remove air bubbles by running a knife around the inside of the jars. Adjust caps.
Process 10-minutes in boiling water bath.
Yield: about 5-6 Pints.