Debi9400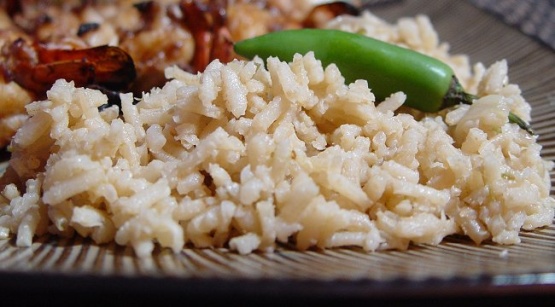 This is a super-easy, tasty, flavorful, low fat side dish that my husband & I concocted to go with our tequila lime marinated chicken (Lowry's and Super Target in the US carry a yummy 30 minute marinade). I've seen this posted with sour cream and/or cheese added, but we were going for low-fat here. Adding these would cut the heat of the peppers, but by removing many of the seeds we were able to make this just spicy enough while keeping it low fat.

What a GREAT addition to our meal! It was simple and flavorful! I doubled the recipe and only added two jalapenos (instead of four from doubling) because I was serving to adults and children with varying appreciation of spicy things. ;) We all enjoyed it and will definitely make it again!
1⁄2 cup brown rice

1

cup chicken broth (can or box, homemade or made with bullion)

2

jalapeno peppers, chopped. (Remove at least 1/2 the seeds unless you like spicy!)
1⁄2 onion, chopped
1⁄2-1 teaspoon olive oil
Sautee onion in olive oil.
Combine all ingredients in a pot with a tight-fitting lid, bring to a boil, and then simmer until cooked (30-40 minutes).
ENJOY!