teresas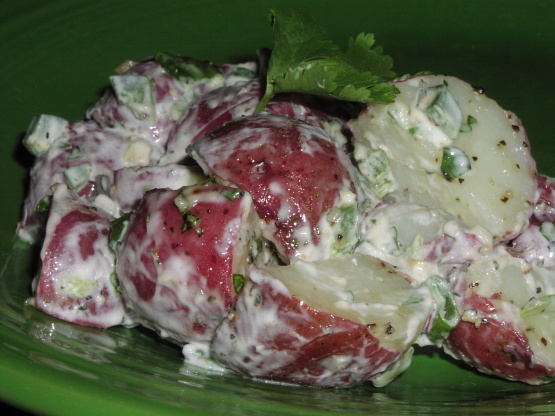 This is a FABULOUS, light tasting potato salad with a kick! I'm not a fan of the super creamy potato salads that most recipes are like and I'm always fond of jalapeno's. This is the perfect blend! We like our potato salad on the drier side to get the full taste of the potatoes but you can make this as creamy as you like by upping the mayonnaise. It's super kid-friendly done just as the recipe states but increasing the ingredients probably takes it out of the kid-friendly zone. This is best served at room temperature right after it's made...but is also great chilled. Enjoy!

This is THE potato salad recipe! AB-FAB! I used to make a pretty mean 'tater/mac salad, but after this reciped, no more mayo/HB egg/celery stuff. We love it and make it as a side about 3X a month. Even had it as a side to prime rib! This is the go-to recipe for potlucks, and everyone wants the recipe--and we're happy to share!
Cook unpeeled red potatoes for 15-20 minutes.
Cool.
Cube potatoes.
Gently combine all ingredients in large bowl.
Season with salt and pepper to taste.