Jalapeno Poppers, "Armadillo Eggs" (no stuffing)
Chipfo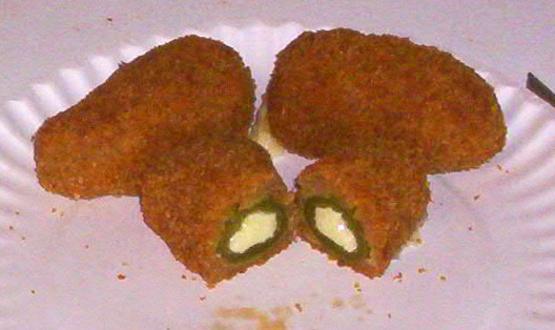 Got this from yumyum.com. It always gets lots of compliments. Easy to make.

I made these little jewels and I thought the men were going to fight over them. They went wild. I made them with fresh peppers and used the hot sausage and they were hot but so very good. Thanks so much for posting.
Slice peppers in half lengthwise and scrape out all the seeds (wear gloves).
Shred the cheddar& Monterey Jack cheese.
Try to keep both halves near each other as you have to put them back together later.
Mix bisquick, raw sausage& cheddar cheese.
Stuff each pepper with Monterey Jack cheese and put the halves back together.
Grab a handful of bisquick mixture and mold around pepper in shape of elongated egg.
Use enough to cover pepper well.
Dip armadillo egg in beaten egg and roll in Shake'n Bake.
Bake on broiler pan (can use cookie sheet) at 350 degrees for 25 minutes or until crisp.