Boomette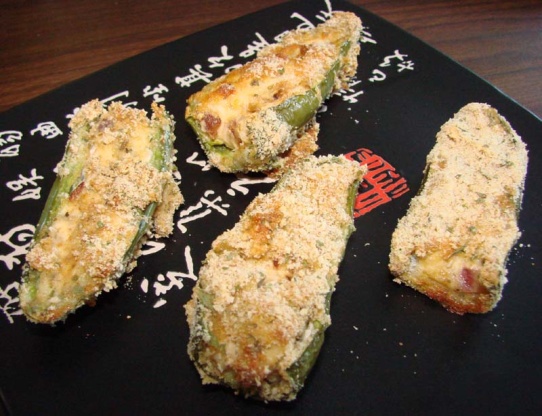 These are slightly different than any that are already posted - My friend Ted made them for us and we loved them The recipe is originally from Save-on=Foods
Heat oil in fry pan and saute the garlic & onion until soft (5 minutes).
In a bowl mix the onion/garlic with the creamcheese, parmesan, salt & pepper.
Stir to blend.
Preheat oven to 350°F.
Fill Jalapenos with the cheese mixture.
Dip Jalapenos in the egg white nd then in the crumbs, coating them well.
Place cut side up on a baking try, lightly spray with cooking oil.
Bake 20 minutes or until crisp & golden.
Spoon a little salsa on each & serve immidiately.