Bergy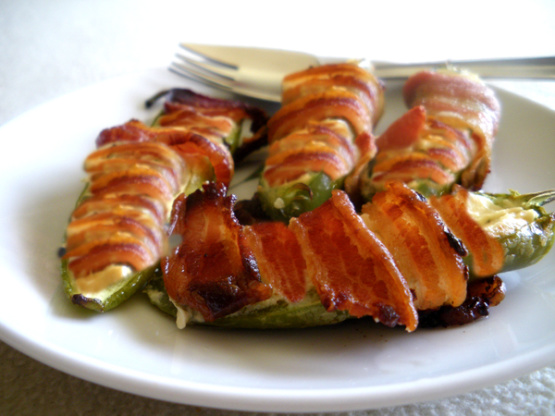 The flavor of the peppers come through, but the cheese and bacon put some of the fire out. I believe the "tenderfoot" would even like these. I have even frozen these with good success.

Top Review by CrazyC
I have made these for years now but how do you get away with only 10 peppers? I have to make them by the pounds of peppers so to cut cost I wrap them with 1/2 slices of bacon. Still great and addictive. Of course using so many peppers I have to drain off drippings often before they are done. A tip I have learned is the more pointed the pepper is the hotter it is so I try to get round-tip peppers.
Cut jalapenos in half and remove seeds and veins.
(Use gloves to work with peppers).
Fill jalpenos with cream cheese and wrap a slice of bacon around each one.
Secure with a toothpick.
Bake at 425 degrees until bacon appears to be done, about 15-20 minutes.