Bergy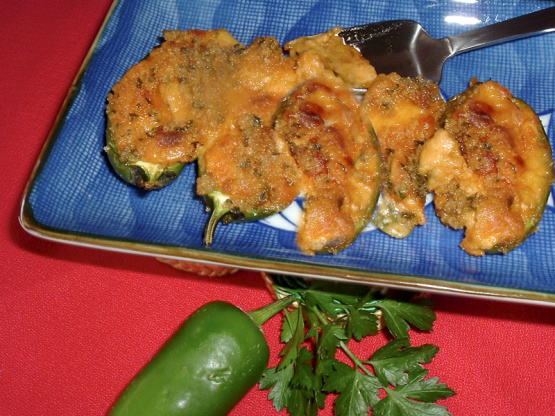 This will make your guests sit up and take notice. Actually with the membranes and seeds removed they are not all that hot (depending where they are from). Make them the day ahead cover and refrigerate then pop them in the oven just before serving. I served these as a first course with Chicken (see Left over Beef enchiladas and substituted sauteed chicken breast) enchiladas, crisp

Top Review by LeeAnn
These were good but needed something. A little salt maybe?? I added shrimp. I think if I made them again I would season the jalepeno with season salt before filling them.
10

jalapeno peppers, cut in half, stem intact, membrane and seeds removed
1⁄2 cup cheddar cheese, aged, grated
1⁄4 cup light cream cheese
1⁄4 cup salsa
3⁄4 cup breadcrumbs (reserve 3 tbsp crumb)

2

tablespoons parsley, chopped

2

tablespoons butter, melted
Combine cheddar,cream cheese& salsa.
Blend in 1/4 cup bread crumbs (less 3 tbsp crumbs).
Spoon evenly into the pepper halves.
Toss together the remaining bread crumbs, parsley& butter.
Spoon over the peppers.
Bake on cookie sheet in 375f oven for 20 minutes or until the top is golden and crisp.