WokRokr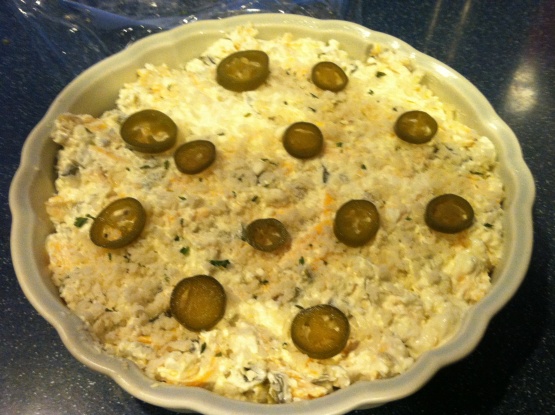 This recipe received over 400 five star reviews on another site. Must be great, certainly worth a try.

I would give this 10 stars if I could, everyone loved this dip! It tastes exactly like jalepeno poppers and is no work at all. I doubled this recipe and added some white ex sharp cheddar and an extra can of green chilis. I just threw it all in a small crock pot for a party and served with tortilla chips. Thank you for a unique recipe for our parties. :) Ok, I just made this again and had some leftover so I decided to use the rest as the filling for Recipe #79944 and I have to say WOW! That recipe was great the way it was written but with this as the filler it was even better.
Stir together cream cheese and mayonnaise in a large bowl until smooth. Stir in green chiles and 1/2 of the jalapeno pepper can, 2 ounces.
Pour mixture into an oven safe serving dish.
Sprinkle with Parmesan cheese.
Bake at 350 degrees for about 30 minutes or until thoroughly heated.