Ambervim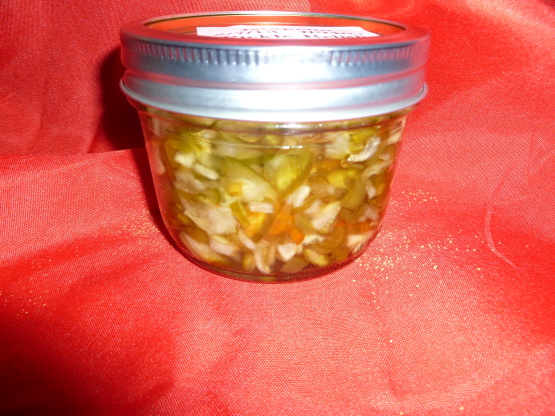 This is fantastic on hot dogs and hamburgers! Kind of a sweet hot relish that wont kill you!

Perfect! Boy this is great--easy to make & the flavor is a mix of sweet with a kick of HOT! I used a tea ball for the spices, worked well. Great on grilled meats & would add pizzaz to leftover roast pork! Thanks for a goodie Di.
1 1⁄2 quarts jalapenos, finely chopped

1

quart cucumber, finely chopped

2

large onions, finely chopped
1⁄4 cup salt
5 1⁄4 cups sugar

3

cups cider vinegar

4

teaspoons pickling spices
Combine jalapenos, cukes, onions and the salt in a large glass bowl, cover with cold water and let stand for 2 hours-drain and press veg to remove excess water.
Combine the sugar and vinegar in a large pot, tie the spices in cheesecloth and add to the liquid.
Bring to a boil and simmer 15 minute.
Add veg and simmer for 10 min-remove spice bag.
Pack into clean hot jars and process 10 minutes in a boiling water bath.