Jalapeno Pepper Mac 'n' Cheese
Boomette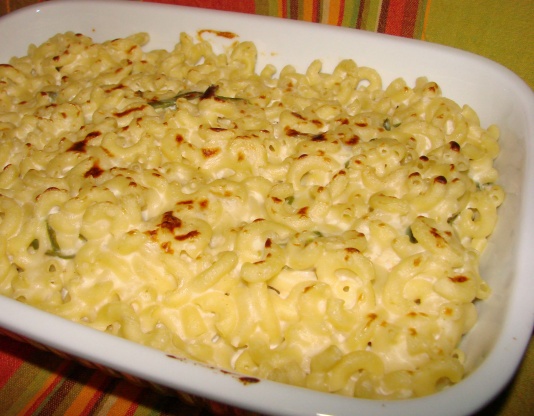 Macaroni & Cheese recipe from Rachael Ray's magazine, August 2009.
I saw this recipe in the magazine of Rachael Ray and when I saw you posted it, I had to tag it and I'm glad I did :) This is so yummy. I used macaroni. I couldn't find serrano chilies so I used only 3 jalapenos. And that way, my son was able to eat it without any problem LOL I used reduced-fat cream cheese. The sauce is very yummy with the dried onion flakes. Thanks NELady :) Made for Newest Zaar Tag
Bring a large pot of water to a boil, salt it, add the pasta and cook until al dente. Drain and return to the pot.
In a skillet, heat a drizzle of EVOO over medium heat. Add the jalapenos, serranos and garlic and cook until tender, about 5 minutes. Add to the pasta.
Preheat the broiler. In a saucepan, combine the milk, cream cheese and onion over medium-low heat. Cook, stirring, until smooth, 5 minutes; stir into the pasta. Stir in the jack cheese; season with salt and pepper.
Transfer the pasta to a baking dish and broil until browned, about 3 minutes.