Jalapeno Macaroni & Cheese Casserole
Linajjac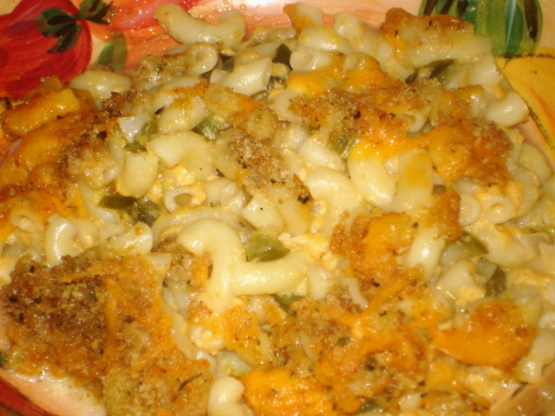 A nice creamy comfort dish. I like it best on a cold winter's night with a good tequila lime chicken dish, but I'm sure you could have it anytime and it would be just as tasty! You may want to add some salt to this recipe. I leave it out because my doc wants me to stay away from excess sodium.

I am usually a very strict follower of recipes, but I was searching out a recipe that came close to a dish I ate in a restaurant last week. This was the closest I found. To give the recipe the punch I wanted, I used 3 LARGE jalapenos and left in about 10 to 15 seeds. I also used almost a full teaspoon of cayenne, and 7 or 8 cloves of garlic. Used 3 green onions from my garden (the bottom few inches only) instead of half a small onion, sprinkled in some paprika, and added a 15.25 oz. can of corn. Left out the bread crumbs just because I had none. I did not add salt other than to the water for noodles, and did not miss it at all. I have the flavor totally where I want it (maybe too much garlic for others), and I am going to play with the cheese, milk and flour next time to get enough of a liquid where it will bubble while baking. Might try tabasco sometime for a change of pace, but I am seriously in love with this spicy dish!!!
Preheat oven to 350 degrees.
Melt butter in medium sauce pan.
Saute minced jalapenos, garlic,& onion until tender.
Add flour,pepper, cumin, and cayenne and stir mixture for two minutes.
Gradually add milk until smooth and creamy.
Simmer for 15-20 minutes, stirring from time to time.
Cook macaroni until tender (if you haven't prepared already).
Drain macaroni.
Add shredded cheese to sauce and stir until melted.
Add sauce to macaroni in a buttered casserole dish.
Top with bread crumbs and bake until top is brown and bubbly.