Rita1652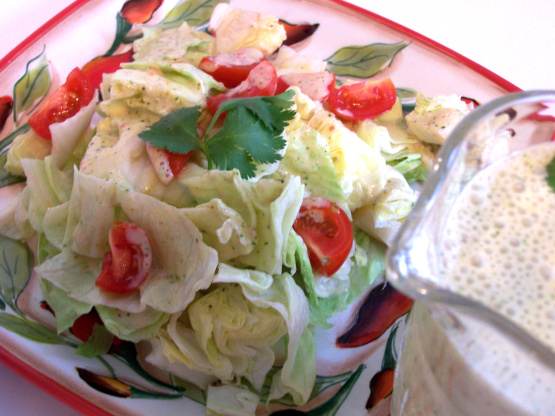 Posted by request. Can be used either as a salad dressing or a dip for tortilla chips or vegetables.

Spicy! I used a 3.5 oz can of whole, roasted and peeled jalapenos in place of both chilis. For those of you that can`t handle to much heat be sure to remove the seeds. Or even replace with a roasted sweet pepper. My bunch of cilantro equaled 1/4 cup packed. I used a whole tomato because mine was small. Added 1 garlic clove. I served this over iceburg and cherry tomatoes. Found it very spicy which hits after the flavor of the cilantro and then ending with a hint of garlic. This make a large amount and the Nutrition Facts states that its 1 cup per serving which I can`t see I`m sure it`s more like 1-2 tablespoons. This would be excellent with chips! Or on a taco salad! Thanks!
Place all ingredients in blender and blend until smooth.
Chill and use as a salad dressing or dip for tortilla chips.