Jalapeno-Honey Pork Tenderloin
pmolina1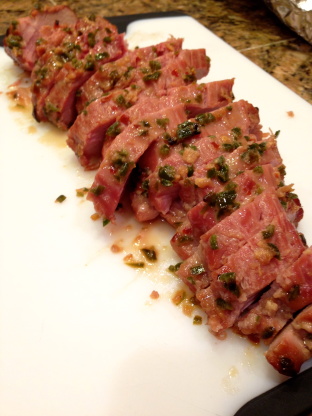 A little bit of a twist on a the other white meat. Prep time doesn't include time for marinading.
Place pork in a resealable plastic bag set in a shallow dish.
For marinade, in a small bowl, combine honey, soy sauce, sesame oil, the chopped jalapeno peppers, the ginger, and crushed red pepper.
Pour marinade over pork. Seal bag; turn to coat pork. Marinate in the refrigerator for at least 12 hours or up to 24 hours, turning bag occasionally.
Preheat oven to 425 degree F.
Drain pork, reserving marinade. Place pork on a rack in a roasting pan.
Roast in oven for 25 to 35 minutes or until juices run clear (160 degree F), brushing once with reserved marinade after 10 minutes of roasting.
Discard any remaining marinade. Remove and cover with foil; let stand for 10 minutes before slicing.