teresas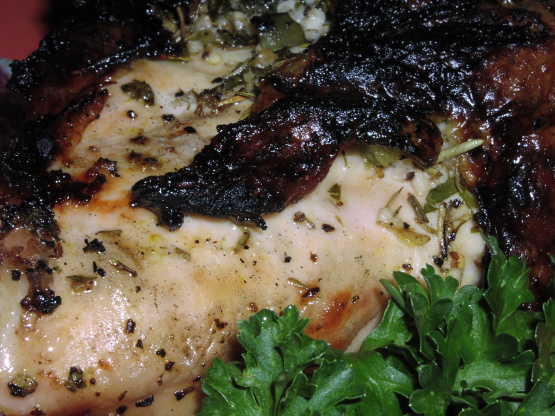 Add some zip to ordinary chicken with jalapenos. From Taste of Home Magazine, we made this last night, and can't wait to make it again. The chicken was juicy and flavorful!

We loved this and DH really doesn't like chicken! The only thing I changed was to use cilantro instead of parsley. (I don't care for parsley) Very tasty indeed. I did find after cooking for about 20 minutes when I turned the chicken it caught on fire!!! Not a good thing. So moved the breast to indirect heat and continued as posted.Thanks for posting. Made for PAC Fall 2008.
In a bowl, combine peppers, chiles, 1/3 cup lemon juice, parsley, garlic, rosemary and thyme. Gently stuff pepper mixture under the skin of each chicken breast. Place in a greased 13in. x 9 inches x 2-in. baking dish. Combine the broth, pepper, lemon peel and remaining lemon juice: pour over chicken. Cover and refrigerate for at least 6 hours. Drain and discard marinade.
Place chicken skin side up on grill. Grill, covered, over medium heat for 45 minutes or until juices run clear, turning once during grilling.