Jalapeno-Cucumber Margaritas
teresas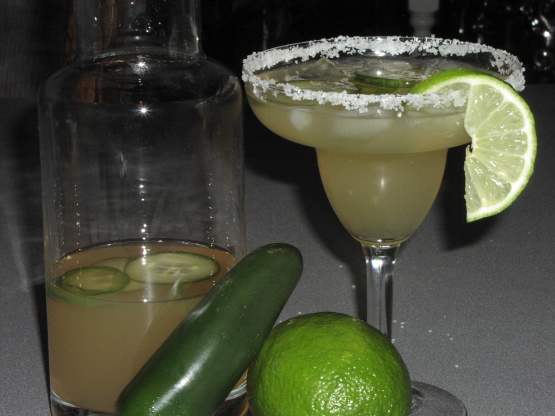 Cool, refreshing and definitely unique. Chill time not included.

Yummy...yummy...yummy...this packs a nice punch...DH said he didn't want one...he's not much of a drinker...so I thought...cool...I get to have both glasses...but he took a sip...for reviewing purposes and kept the glass...I let mixture chill for about 4 hours...you really can taste the cucumber...the jalapeno give just a hint of heat...very refreshing...I can see having a pitcher of this hanging out in the refrigerator all summer long...thanks for posting it...:)
1⁄2 cup tequila
1⁄4 cup orange liqueur
1⁄4 cup lime juice
1⁄4 cup water
1⁄4 cup simple syrup (equal parts water and sugar)

4

thin slices cucumbers

4

thin slices jalapenos
salt, for glass rims (optional)
Combine all ingredients in a pitcher.
Chill for at least an hour (the longer the margarita sits, the more cucumber and jalapeno flavors infuse into the drink).
Serve over ice in salt-rimmed glasses.