To be used as a dip or spread for bagels, sandwiches, burgers, tortillas or any other dish that would be compatible. Can, also, be used just as is spread between two pieces of bread for finger sandwiches or with the added sweetness of a fruit preserve or jelly.
Directions
Blend together softened cream cheese, mayonnaise and garlic powder until smooth and no longer lumpy. Add chopped jalapeno to cream cheese mixture and stir until just blended.
The longer the mixture sits, the hotter it becomes.
Most Helpful
Very nice cream cheese. It is much better after it sits. I tried it right after making it and found it kind of bland but the next day it sure was packed with heat. Thanks for posting.

This couldn't be easier! I used a very large jalapeno, which was perfect heat-wise. I noticed it did get hotter the longer it sat, but it actually did not sit too long...we ate it too fast!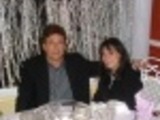 Made this up yesterday afternoon to have on Gailanng's Recipe#434639#434639 today. DH and I did sneak some on crackers as an evening snack. Yummo! Thank you. Made for Zaar Alphabet Tag game.