jodielm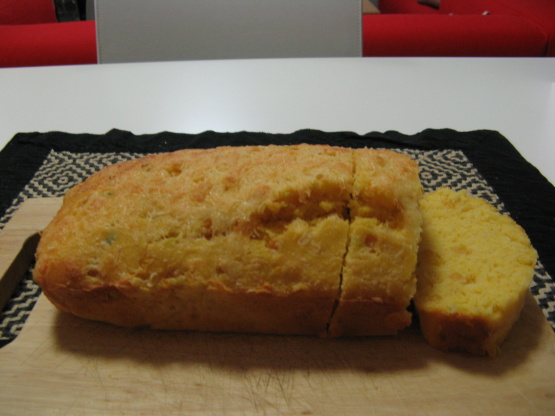 The Chilli just gives it that bit of kick, but it goes really well with stew, or anything hearty and juicy that could use a side of delicious bread!

The flavor of this recipe is very nice and very close to one I make most of the time. If you do not like sweet cornbread (I don't) try this recipe. Although I did change up the cooking method I pretty much stayed with the recipe. I did not sift my flour (lazy) and needed to add another tablespoon or so of olive oil just to get all the ingredients combined well. I also heated about 2 tablespoons of oil in my iron skillet and preheated it at 400 degrees for at least 20 minutes. The crust on the bottom was nice and crusty just like we like it and the inside was very moist at 30 minutes of baking. I did not care that much for the corn kernels. I think I would have preferred cream corn as the kernels were a little tough. I used one very large jalapeno pepper (about 2-3 tablespoons) which was perfect for us. All in all a nice cornbread. Thanks for sharing. Made for Spring PAC 2014
Preheat oven to 180 degrees celcius. Grease a loaf pan with butter or olive oil, and line sides with baking paper.
Sift the flour into a large mixing bowl. Stir in the Cornmeal and salt, and make a well in the centre.
In a separate bowl lightly whisk together the egg, Buttermilk, and olive oil. Gradually add this to the Flour mixture and stir until smooth.
Add the corn, chilli and 1 cup of the cheese to the mixture, stirring through to combine.
Pour the mixture into your prepared loaf tin, and sprinkle with remaining cheddar.
Bake for 35 minutes or until you can insert a metal skewer into the centre and it comes out clean.
Set aside for 5 mins to cool, then turn onto a bread board or wire rack. Slice to desire thickness and serve!