lazyme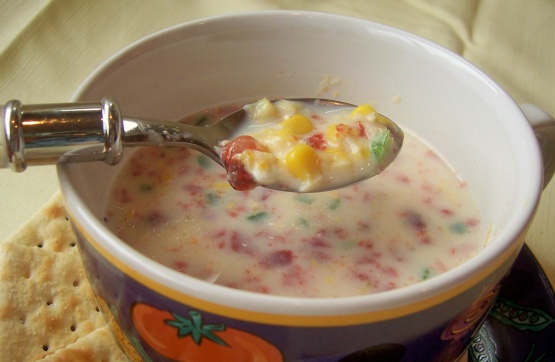 Corn season comes to an end just as cool evenings make their entrance. That means it's prime time to prepare corn chowder using those last few ears.

I made this using frozen corn (it's hard to find fresh this time of year.) I used half cream and half milk, because I wanted to finish off the open container of cream, but it worked perfectly. It probably would have been thinner than I like if I had used all milk. We went with the pimentos because it's what we had on hand, but the roasted red peppers sound delish. We did feel the need to add some fresh ground black pepper to it, but that was all. It's a very beautiful, colorful soup plus it's quick and easy to make. Perfect for a busy, cold winters day.
Cut off kernels from the ears of corn, if using whole fresh corn.
In a blender container, combine half of the corn and the broth.
Blend till nearly smooth.
In a large saucepan, combine broth mixture and remaining corn kernels.
Stir in milk or light cream, jalapeno peppers and red peppers or diced pimientos.
Heat through.
Top each serving with cheese.
Serve hot.