ChefLee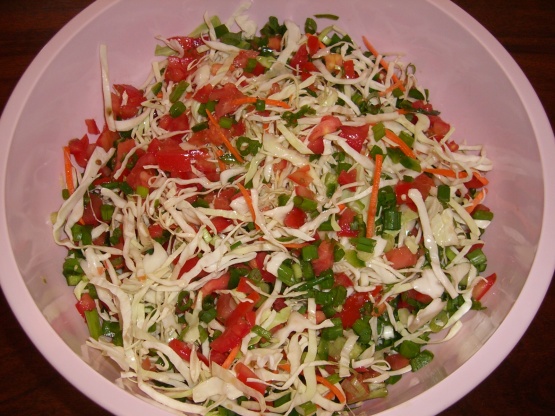 This light and spicy new twist on an old favorite has no added fat. Allow several hours for marinating or make the salad a day ahead and refrigerate it. Hot and sweet, this slaw is perfect for picnics;serve alongside sandwiches, burgers, or grilled chicken.

This had a bite to it for sure. I used seasoned rice vinegar and a little cider vinegar and cut the recipe in half. Thanks for a healthy slaw. UPDATE: We had this again for dinner the next nite and it was 10 times tastier. So the more you let it mary (sp?), the better it gets!!
Combine cabbage,tomatoes,green onions,jalapenos,vinger,honey and salt in serving bowl;mix well. Cover and chill at least 2 hours before serving.
Stir well immediately before serving.
Note:jalapeno peppers can sting and irritate the skin;wear rubber gloves when handling peppers and do not touch eyes. Wash hands after handeling peppers.
For a milder coleslaw,discard the seeds and veins when chopping the jajapenos, because this is where much of the heat of the pepper is stored.