Nimz1466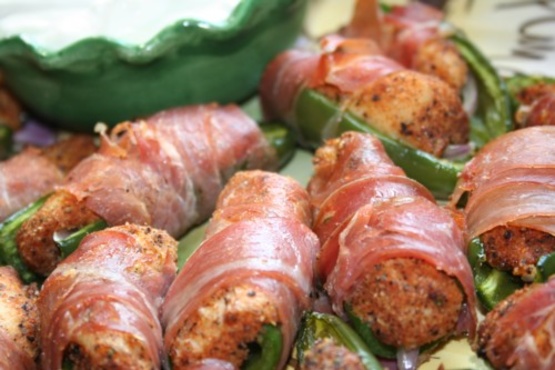 I've been playing around with this recipe from Taste of Home Back Yard Grilling and think I've got it right for our taste. This is so good, it can be a meal in itself. It's a little heat intense, but we like it that way. We loved the combination of spices. Hope you try it.

Outstanding appy you have here! We loved them!
Cut chicken into 2 in strips that will fit the size of your pepper. (The size of the chicken strips will depend on how large your peppers are, so use your judgment. Even if they are bigger than the pepper, just tuck in what ever overlaps and it works fine).
In a large resealable plastic bag, combine the garlic powder,onion powder, pepper, seasoned salt and paprika.
Add Chicken and shake to coat.
Place a chicken and onion strip in each jalapeno half. (If you don't like your onion a little crispy, saute in 1 tbl of butter for 2-3 minutes to soften).
Wrap each pepper with a slice or two of the shaved smoked ham, enough to cover the entire pepper and place on baking sheet. You will need toothpicks if you use bacon or the prosciutto.
Preheat oven to 350 degrees.
Bake peppers for 20-25 minutes or until the ham is slightly browned and chicken juice runs clear.
You can also grill these:.
Spray your grill with Pam.
Grill peppers uncovered, over indiredct medium heat for 20-25 minutes or until chicken juices run clear and ham is slightly brown.
Serve with blue cheese or ranch dressing.
For a variety, try sprinkling some Italian Bread Crumbs on top before adding the ham It adds to the flavor.