iris5555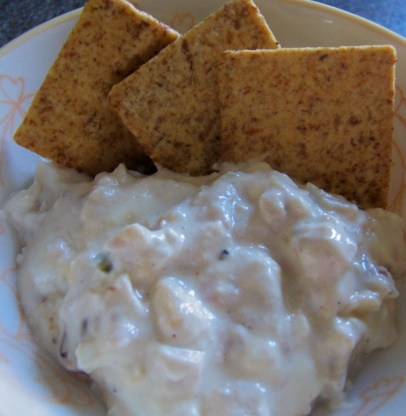 This recipe comes from the Tabasco website. In addition to using it as a spread for crackers, I've also used it as a sandwich spread.

This is very very good. I used it (unheated) as a sandwich spread. I cooked a whole chicken breast in olive oil with a sprinkle of garlic & herb seasoning, then shredded & chopped once it was done. Also used light cream cheese, light mayo, pickled jalapenos and left out the milk so it would be thicker. Thanks for the recipe!
Finely chop chicken with a knife or in a food processor.
Heat oil in a 12-inch skillet over medium-high heat. Add chicken and cook until tender and golden on all sides, stirring frequently.
Combine cream cheese, mayonnaise, milk, red pepper, jalapeño, lemon juice, salt, Tabasco sauce and cooked chicken in a bowl and mix until well blended.
Preheat oven to 375°F.
Spoon chicken mixture into an oven-safe crock or small casserole.
Bake 20 minutes or until mixture is hot and bubbly.
Serve with crisp crackers or pita triangles.