GaylaJ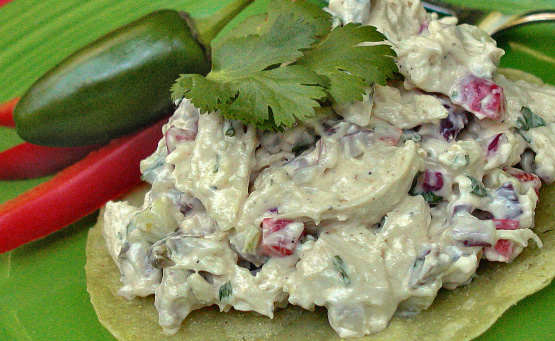 (UPDATE: I just found out that the creator of this recipe is Recipezaar member dawnie2u! How cool is that?) I just got this recipe from Cook's Country magazine. A cook named Dawn from San Diego, California submitted it to the magazine and won first place in a chicken salad contest. We loved it so much, I thought I'd share it right away. You can find the pickled jalapeños in a can in the Mexican/ethnic section at the supermarket. You can also use this recipe for tuna. I served this over tostadas (crispy fried tortillas).

Tried this the other night with leftover roast chicken, and it was delicious! The jalapenos gave it a nice bite, but not too spicy. My husband said it was "one of the best, most interesting" things I've made. I don't know whether to be pleased or pissed! :) Used lemon juice instead of lime, no celery. Am trying it with tuna today!
Mix mayonnaise and lime juice in a small bowl until combined.
Toss chicken, celery, onion, bell pepper, cilantro, and jalapeños in a large bowl.
Add the mayonnaise mixture and toss until evenly coated.
Season with salt and pepper to taste.
Serve or cover and refrigerate for up to 2 days.