Bergy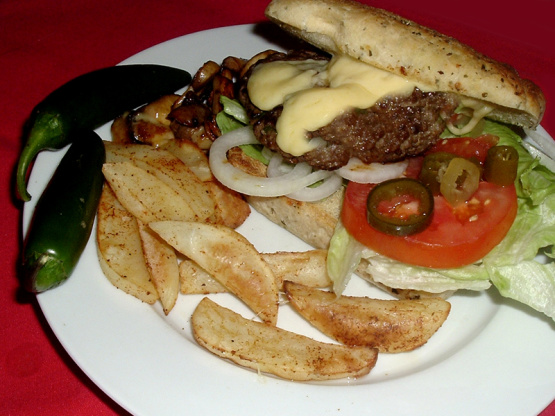 A wonderful cheeseburger variation custom made for the grill.

Top Review by Bergy
I love spicy food and I love burgers -Soooo great combination. My burger was a little dry but I do not fault the recipe as I used XXX lean meat and should have added a tbsp of say, BBQ sauce. Served with tomato slice as suggested also pickled Jalapenos, lettuce and sweet onion with mushrooms on the side. For the cheese I used Moorsdam a flavor loaded cheese - Thanks Thomas for a tasty Saturday Night Burger
In medium bowl, combine ground beef, jalapeno pepper and Mexican seasoning, mixing lightly but+thoroughly.
Shape into four 1/2" thick patties.
Place patties on grid over medium ash-covered coals.
Grill uncovered 14-16 minutes or until centers are no+longer pink, turning once.
Approximately 1 minute before burgers are done, sprinkle each with 1 tablespoon cheese.
Place one slice tomato on bottom half of+each bun; top with burger.
Close sandwiches.