Linajjac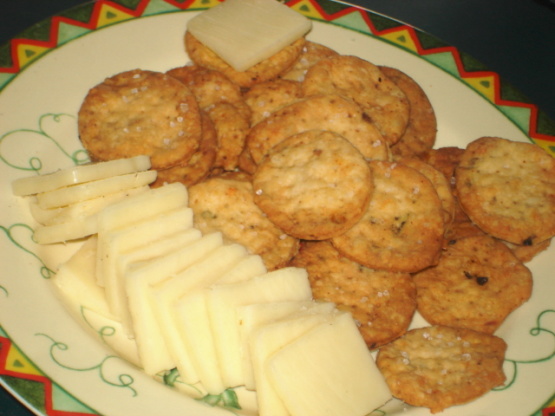 Spicy and buttery tidbits perfect for any dinner party. These little appetizers get a little heat from the cayenne and jalapeno cheese. A perfect match for a glass of wine.

Top Review by Weewah
Absolutely delicious. I made the dough ahead of time, rolled it on waxed paper, rolled the dough & paper up together and froze it (wrapped in plastic). When I thawed it out on party day, the cracker dough was so easy to cut & bake off fresh. A real plus to my menu. Thanks!
BTW - unless you live alone and have a delicate appetite, double this recipe!
Preheat oven to 400ºF.
In a large mixing bowl stir together the flour, cumin, salt, and red pepper.
Cut in the butter until the size of coarse crumbs.
Stir in the shredded cheese.
Sprinkle the water over the mixture, stirring until all the dough is moistened.
Turn the dough onto a large piece of waxed paper or plastic wrap and gather the dough into a ball; then flatten into a disk. If necessary, wrap and refrigerate for 30 min or until easy to handle.
On a lightly floured surface roll the dough to about 1/8-inch thickness.
Using a floured 2" cookie cutter to cut dough, rerolling as necessary.
Place pieces about 1/2 inch apart on an ungreased cookie sheet.
Bake for 8 min or until crackers are golden brown around the edges.
Transfer to a rack to cool completely. If desired, lightly sprinkle with paprika.