Jalapeno Cheese Bread for Bread Machine
srosfeld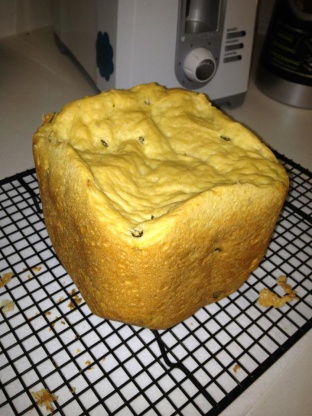 Give me this bread with some wine and I'm a happy girl. It has just the right bite and coarse texture to it. It pairs nicely with anything from chili night to a cocktail party. Love it! These measurements call for a 1 lb. loaf.

I was just adding this recipe, and ran a search and it's so similar I won't post mine, which has some slight differences (3/4 C Sour Cream, 3 Cups flour, 2 Tbsp sugar, and a full cup of cheese, other that it's all the same) I've been using this for YEARS, and it's one of my very favorite breads. We like to up the jalapenos and also toss in some habaneros. This is some seriously good bread!
Place all ingredients in bread pan in order according to your bread machine.
Select Light Crust setting and press Start.
After baking cycle ends, remove bread from pan, place on cooling rack, and allow to cool 1 hour before slicing if you can control yourself!