Jalapeno-Cheddar Cornbread
rpgaymer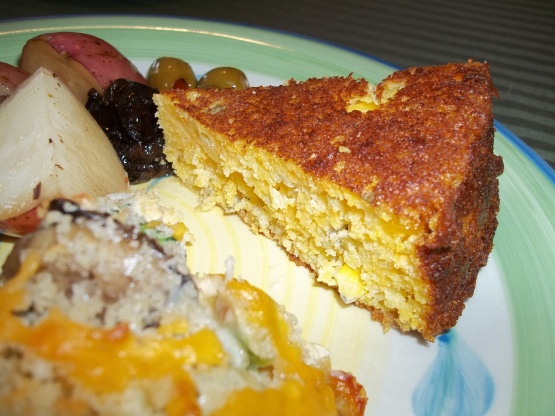 A Southern corn bread that even this Yankee can love. I'm originally from New England and wasn't raised on corn bread, and I generally found it dry and tasteless. But now that I'm living in Texas, I tried numerous variations on traditional recipes and developed this one that I like a lot, and that even Southern die-hard corn bread fans rave about.

WOW ~ Spicy HOT cornbread. But delicious ~ easy to make, and a great side with just about anything. We had it with Cadillac Jack's "Poker Slop" Breakfast recipe #352656 ~ perfect! Thanks Booted Bear for posting! Better than your average cornbread :) Made for Spring PAC 2010!
42.52

g bacon fat

236.59

ml self-rising cornmeal

236.59

ml sour cream

236.59

ml frozen corn

118.29

ml corn oil

3

eggs

2.46

ml salt

113.39

g shredded cheddar cheese

59.14

ml chopped pickled jalapeno pepper
Place an 8-inch cast iron skillet in the oven and preheat to 400°F Let the pan get good and hot.
In a large bowl, mix corn meal, sour cream, corn, oil, eggs and salt with a rubber spatula until all ingredients are incorporated.
Mix in the cheddar and jalapenos.
Remove the pan from the oven (use a thick mitt, the handle will be very hot) and place the bacon fat in it. Return to oven for a few minutes until fat melts and gets good and hot.
Remove pan from oven and pour mixture into the center of the pan, letting it spread to the sides.
Return pan to oven and bake for 30 minutes.
Slice into wedges for serving. Do not let the bread cool in the pan -- it will stick.
Great served still piping hot, or later when cooled.