Brenda.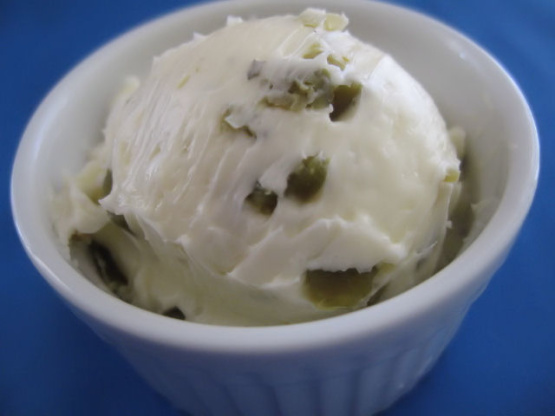 A simple recipe to add some spice to your butter!

Thr recipe didn't specify fresh or canned jalapenos. I had a jar open & after seeing Brenda's photo wanted to try the recipe. I chopped them finely, but gave up on the fork. I threw everything into the mini processor & had a smooth butter with flecks of pepper. I didn't find it hot at all (good thing) and think garlic or cilantro could easily be added if desired. I will use the recipe again this summer when I am overrun with peppers.
4

tablespoons butter, room temperature
1⁄2 lemon

2

jalapenos
Squeeze the juice from the lemon.
Use a fork to cream all the ingredients together.
Cover, or wrap, and refrigerate until needed.