gailanng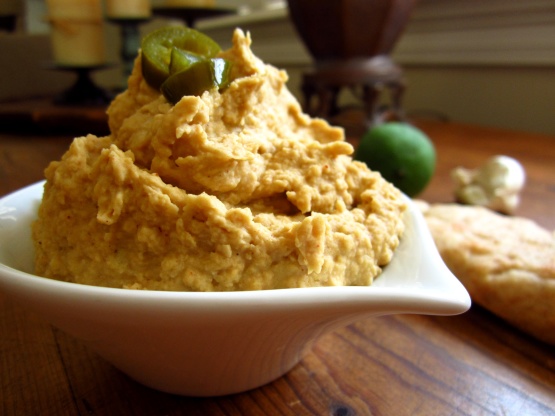 With store bought hummus, the quantity is small and prices are high... plus I like to be able to control the ingredients, so I adapted this recipe from ingredient labels. Please note that I use Bertolli Extra Light "Tasting" olive oil for the mild flavor. This hummus will taste significately different if you use Extra Virgin Olive Oil and I don't recommend it... unless you like the strong taste. If you don't have a Kitchen Aide Garlic Press, I highly recommend one... I bought mine at Fry's Electronics... it is easy to use and clean. This Jalapeno and Lime Hummus is great as a dip, on pita or as a sandwich spread.
453.59

g can garbanzo beans, drained (Chick Peas)

44.37

ml bertolli extra light tasting olive oil

29.58

ml tahini (Fresh Sesame Seeds)

14.79

ml water

29.58

ml fresh squeeze lime juice (about one lime)

4.92

ml garlic, fresh pressed (about two cloves)

44.37

ml bottled jalapenos, drained and chopped

4.92

ml paprika

1.23

ml salt
Put all items into a small food processor and blend until smooth.