Jalapeños Cream Cheese Chicken
Juenessa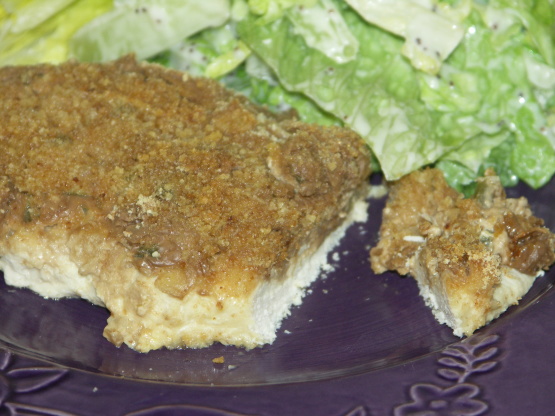 This is something that I improvised one day out of what I had on hand. My DH liked it enough that it is something he now asks for regularly. NOTE* This is an edit to add that the breadcrumbs in this recipe can be replaced with the canned "French-fried" onions,and it is excellent that way!!

What a quick and delicious dish!! Thought it to be a lil salty, but yet that didn't stop us from eating all of it!!
4

large boneless chicken breasts

8

ounces soft cream cheese

6

large fresh jalapenos

1

(1 1/4 ounce) package Lipton Onion Soup Mix

1

small onion
1⁄2 cup dry breadcrumbs (*see note)
garlic powder (to taste)
cooking spray
Preheat oven to 350°F.
Butterfly chicken breasts to as even a thickness as possible.
Sprinkle both sides of chicken with garlic powder to your taste.
Cut jalapeños in half and remove seeds and membranes, then dice.
Dice onion.
Combine cream cheese, diced onion, jalapeños and soup-mix together well.
Spray baking pan with cooking spray.
Place each chicken breast out flat on pan.
Spread cream cheese mixture equally on each chicken breast.
Top each breast equally with bread crumbs. *(I use unseasoned crumbs because the soup-mix is a bit salty).
Place in oven for 40-45 minutes. Check halfway through cooking time and cover with foil if needed (ovens can vary, so you may or may not need to do so).