gailanng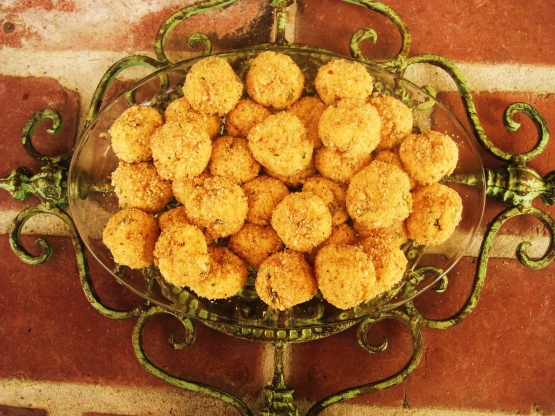 These are a bit reminiscent of stuffed jalapeño peppers but much easier to make. I found this in the Junior League Celebrations cookbook.

Top Review by fwgal
My DH favorite! I use Panko bread crumbs (important). After breading I press them with a spatula to make them coin shaped (if the taste is good what difference the shape?) When prepared I place them in freezer on a sheet until slightly frozen then bag for use when needed.
Out of freezer bake at 350 for 10 minutes then flip and bake 10 minutes. My guests request the recipe time and again.
1

(8 ounce) package cream cheese, softened

8

ounces grated parmesan cheese

3

tablespoons chopped jalapeno peppers

2

large egg yolks

2

cups dry breadcrumbs
Preheat oven to 350°F.
Combine the cream cheese, Parmesan, jalapeño peppers and egg yolks in a bowl and mix to form a paste.
Shape a 1/2 tablespoonful at a time into 1/4-inch rounds and roll in the bread crumbs.
Place on an ungreased baking sheet and bake for 10-15 minutes or until golden brown.
Serve warm.