Jake's Stuffed Bell Peppers
Boomette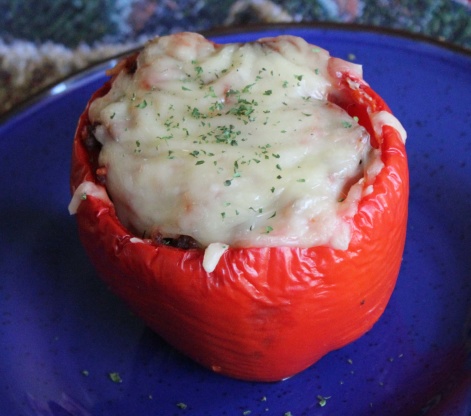 These are delicious and simple to make. I like to use red and yellow peppers as well as the green for added color and flavor. These are my husband's favorite.

I had some peppers to use up this fall and this recipe did a good job of it.. Delicious, easy, healthy, fast!! These peppers have a lot going for them! They made a great light meal with steamed greens.This would receive the Nobel Pie Prize if such an accolade existed in peppers go's. Cooking is both art and science.And you did it here!! AND NOW THE FUN BEGINS. I've will added this to my recipe book, THANK YOU!! For that! I can do the happy food dance!! NOW !! THANK YOU!! 7 Stars !! Grpa
preheat oven to 350 degrees and in a large pot start the water to boil.
Cut off the tops of the peppers, remove seeds and wash thoroughly. When water is boiling put peppers in for five minutes to soften.
Remove peppers and set aside. Turn them upside down so excess water drains out.
Cook the beef, salt, pepper, garlic and minced onions together.
When browned add the rice, mushrooms, and half of the tomato sauce.
Mix well and let sit for about 2-3 minutes to develop the flavor.
Place peppers in a large casserole dish or you can use a 9 x 13 pan. Fill each pepper with the beef mixture until they are all full. If there is any left you can use it around the bases of the peppers to support them.
Then pour the remaining tomato sauce on top of each pepper.
Cover with lid or aluminum foil tent, and Bake at 350 degrees for 45 minutes.
Sprinkle the mozzarella cheese on top of each pepper and bake for another 15 minutes.
Enjoy!