Demelza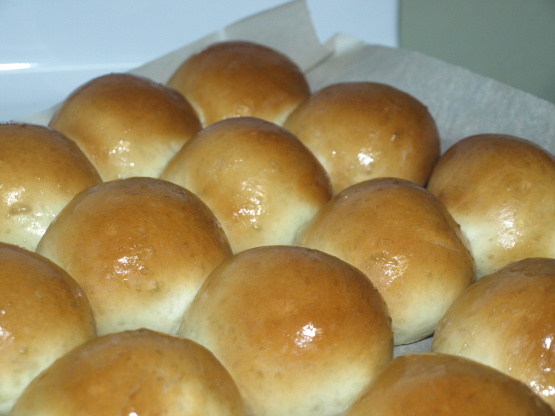 This is the recipe I normally use for buns & cinnamon rolls. You can use either warm or cold liquid. If you use cold it will take a little longer for your dough to rise. I turn the oven light on & let my dough rise in there.You will end up with about 5 lbs of dough. This will be enough to make 40 - 2 oz dinner buns, or 24 - 2 oz dinner buns & a dozen fairly large cinnamon rolls. I use my Kitchen Aid mixer so I don't have to knead the dough. I use a scale when making my buns, then I am assured of getting a uniform size. While this is a bit more time consuming than some recipes, the end results are worth it. This is the dough that I use for my cinnamon rolls Jake's Cinnamon Rolls .
Beat 1st seven ingredients together.
Beat in 6 cups of flour, 1 cup at a time, & the yeast.
Change to dough hook and add last 3 cups of flour.
Mix well, till you get a nice dough ball.
Let rest 5 minutes.
Knead 2 minutes.
Let rise in oiled, covered bowl, in a warm place for 20 minutes.
Punch down & let rise 2 more times, for a total of 1 hour rising time.
Form buns and place on parchment lined baking sheet.
Cover & let rise 30 minutes, or till doubled.
Bake at 350°, for 20 minutes.
Brush tops with butter while still hot.