Jacqueline's Zucchini Muffins
Boomette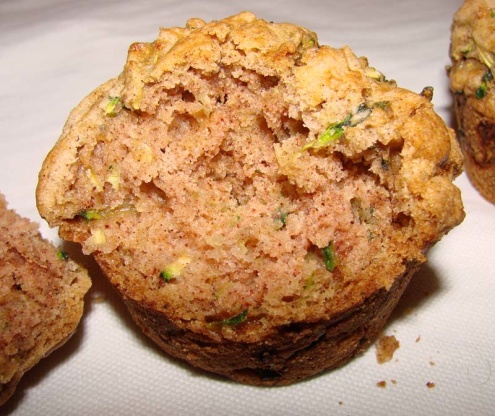 These are incredible! So moist and tasty! Great way to use up some of zucchinis from your garden. Recipe is from Jacqueline's Markeplace and Cafe in Scottsdale. I've found that they are better if the batter is allowed to sit for 15 to 20 minutes before baking. This allows the zucchini to release the water. I love cinnamon, however if preferred you can reduce the amount of cinnamon. Muffins freeze well.

Top Review by etully
This is a densely textured, hearty muffin. I got 2 dozen regular sized muffins from this recipe. Since mine were smaller, 20 min. of cook time was sufficient. Make sure you heed Galley Wench's advice to let the batter sit after mixing. It does make a difference. My only problem with this recipe is that the amount of cinnamon was way too much for my family. I will halve it next time. Also, I used egg and sugar substitutes with no ill effect. Raisins might be a nice substitution for some or all of the nuts. I loved that I had muffins for the family and the freezer. Thanks for a good recipe, Galley Wench.
Cream together oil and sugar.
Slowly beat in vanilla and eggs.
In a speparate bowl, sift together the dry ingredients.
Add to the oil-sugar mixture, stirring to combine.
Add zucchini (or carrots) and walnuts.
Pour into greased oversixzed muffin tins. Bake in preheated oven at 350 degrees for 25 to 30 minutes.