Jack's Chocolate Chip Cookies
KaraRN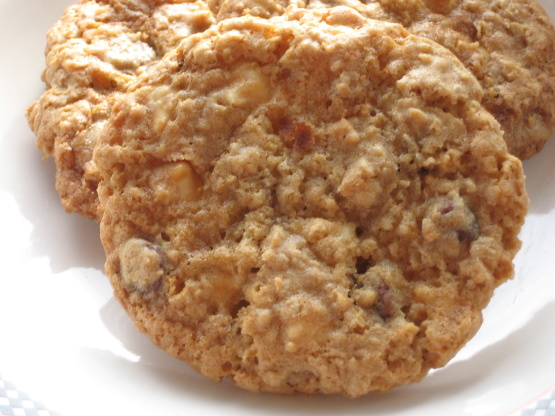 I don't know who Jack is, but he sure knows how to make a yummy cookie. This is a recipe I adapted off of allrecipies.com. I've reduced the amount of sugar and made low fat options to this recipe. Yummo.

This is a good cookie. I was hesitant with all the scary healthy stuff in here, but they don't taste icky and healthy ;) I did not use the nuts, and I think I should have because they were missing that 'something' extra. I would use only 1 cup of chocolate chips next time. Made and Reviewed for Every Day Holiday Tag - Thanks! :)
Preheat oven to 350°F (175°C).
In a large bowl, cream the butter, applesauce, brown sugar and white sugar until smooth. Add the egg sub. and mix. Stir in the milk and vanilla. Sift together the flour, baking powder, baking soda and salt, stir into the creamed mixture. Using a wooden spoon, stir in the rolled oats, chocolate chips and walnuts.
Roll the dough into walnut sized balls, and place 2 inches apart on an unprepared cookie sheet. Bake for 10 to 12 minutes in the preheated oven. Cool cookies on wire racks.