Jackie's Chicken Cutlets With Stuffing Bake
vrvrvr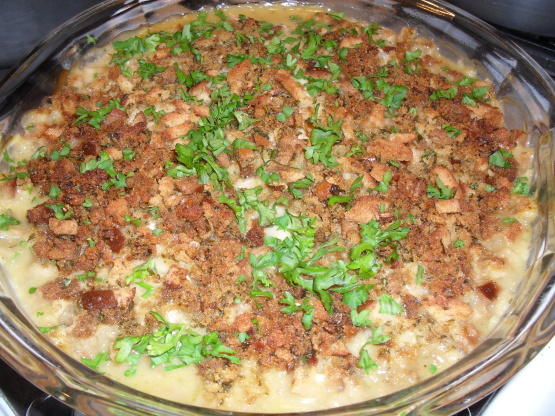 There are many similar on Zaar but this one is a little different. This was given to Jackie by her sister Lauren.

Top Review by vrvrvr
Wow, what a lovely and ritzy casserole! It was a crowd pleaser! I took the liberty of sauteing (in a dash of olive oil) some fresh finely chopped onion and garlic that I placed on the chicken breasts before I poured the soup mixture over. I also seasoned the breasts well with pepper and Italian seasoning. For the stuffing, I melted the butter in a medium skillet and then tossed the stuffing in that, to distribute the butter well. The result was a super flavor packed dish. There was one diner who felt that it was too rich. I would definitely make it again, but next time I want to make a simple white sauce with the wine, and not used canned soup. Serve with simple sides to counterbalance the richness - I made steamed fresh broccoli and pan seared mushrooms. Delicious!
Spray pyrex baking dish with cooking oil and place chicken in the dish.
Sprinkle shredded cheese on top of the chicken.
Mix the soup with the wine and pour over that over the cheese and then top with the stuffing mix.
Pour the melted butter over the crumbs and bake for 40 minutes (if thin chicken or longer if chicken is thicker) at 350 degrees F.