Jacket Potatoes W/Herbed Cottage Cheese (Diabetic Friendly)
ImPat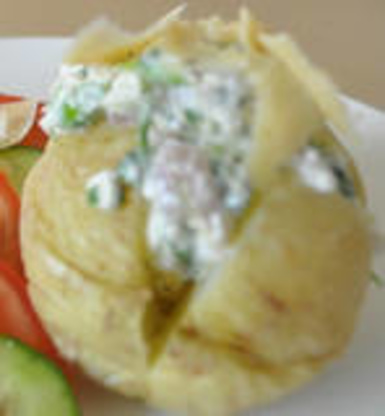 This recipe is from the "Low-Fat Cooking" cookbook of the Australian Womens Weekly Cookbook series & was described as suitable for diabetics. It seemed so basic to me & I was certain it would have already been posted to RZ, but I was unable to find it. DH & I have been eating baked potatoes this way for eons w/the addition of garlic & McCormick Lemon & Pepper Seasoning Salt, so I showed them as opt adds. Time does not include time to bake or microwave potatoes. *Enjoy* !

Top Review by ImPat
I scaled this back for 1 medium potato and baked 6 1/2 minutes in the microwave making for a quick lunch, while the potato cooked I made up the mix also adding some finely sliced red shallot and served it with a simple cucumber and tomato salad with a little extra parmesan shaved over the potato and salad. Thank you twissis, made for Healthy Choices ABC Tag Game.
Combine cottage cheese w/onion, parmesan cheese, herbs & opt adds (if using).
Cut a deep cross in ea potato & gently press sides to open the cross. Fill & mound herbed cottage cheese equally among the 6 potatoes & serve immediately.
NOTE: If you want a smooth texture or simply want to disguise the cottage cheese from the kids, use a stick blender to puree it till smooth & then mix in the herbs & seasonings. They'll prob think it's the best sour cream they've ever tasted. :-).