Jack Stack's Smokestack Baked Beans
Prep 20 mins
Cook 1 hr 10 mins
This recipe posted by a request from Kat. The Kansas City Star published this "famous restaurant's" recipe some time ago. If you like these baked beans, check out Smokestack's Cheesy Corn Bake.
Directions
Cook bacon just to remove grease Combine rest of ingredients Add the bacon and put in large baking dish Bake uncovered in 325 degree oven 60-75min.
You may also fix this in crockpot on low 6-8hours.
Most Helpful
Best baked beans ever! I have made this recipe several times
FIVE (5) STARS Y'all!<br/>I used .5cp Gates mild & .5cp Jackstack reg. sauce. (Lil Smokies for that "Beanie Weenie" feel)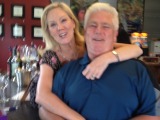 Loved this - added some amount of bacon and the pseudo burndt ends (ham steak sauteed in butter and brown sugar). EXCELLENT in crockpot.