chia2160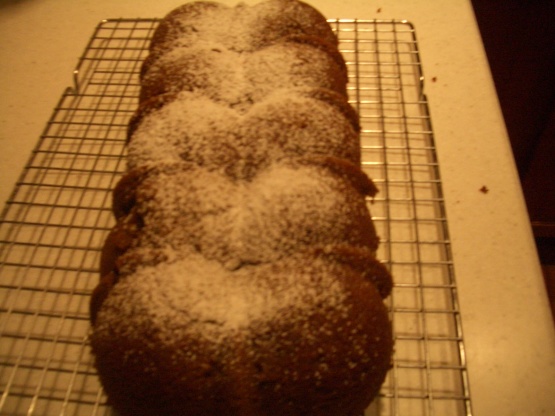 I wanted to post this so I don't ever lose it again. In college, my bestest friend, Alan, and I visited the Opryland Hotel with his parents at Christmas. In one of the gift shops in the hotel, they sell these, as well as at the little shop in Lynchburg. She served this cake and coffee after we got back to their place and opened presents. It was glorious (and not cheap by any means). So, I came home and started searching, playing, and experimenting. I found this through Google and it's exactly like what we had that night. If you're wondering what it's like..think chocolate-coffee-flavored cake on a bender. YUM!

This is the second time I made this cake. The first was good but I think I over whipped the batter and then cooked it too long. both times it did not take 1 to 1 1/2 hrs. to bake the first was a little over done in 1 hr. at 375 the second I didn't mix as long and you tell the batter was a little more runny and I baked at 350 again it was done in 1 hr. and was not over done (I pulled the small loaf out at 45 mins.)I had a tipsy cake from Jack daniels at our local liquor store about 2 years ago and it was great and it made me start looking for a recipe. I don't remember if this is what it tasted like but this cake is OUTSTANDING !!!
Preheat oven to 350-375 degrees, depending on how your oven bakes (it's different for everyone!).
Melt chocolate and set aside to cool down a bit.
Dissolve the coffee granules in the boiling water. When dissolved, stir in the cold water. Add the whiskey and set aside.
In a large electric mixer, cream the butter, vanilla, and sugar. Add the eggs, one at a time, beating well after each addition. Add the chocolate.
With the mixer on low, add the flour alternating with the coffee/whiskey mixture.
****The batter WILL BE THIN & RUNNY.**** Do NOT add more flour.
Pour into two prepared loaf pans (I always make one small and one large-one to keep, one to give away.).
Bake until a toothpick comes out clean, about an hour to an hour and a half. Cool. Sprinkle with powdered sugar when serving.