Jack Daniel's Flank Steak
diner524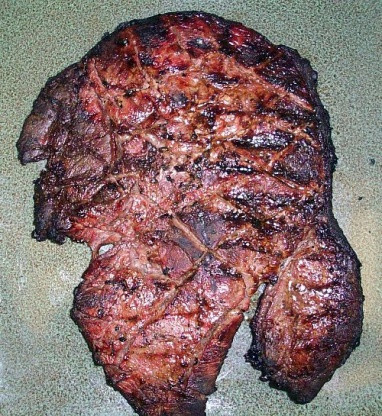 Tasty marinated flank steak for grilling or broiling.

Followed the recipe to a "t," and I regret to say this absolutely ruined a beautiful piece of flank steak. Tasted only of the whiskey. Dogs won't even it eat.
Score the flank steak with a sharp knife, about 1/8-inch deep, in a diamond pattern; set aside.
Mash the garlic with the mustard.
Stir in the whiskey and oil.
Place steak in a zipper type plastic freezer bag. Pour mixture over the steak and refrigerate overnight.
Set out at room temperature for 1 hour before cooking. Remove steak from marinade, reserving marinade.
Grill, using charcoal or gas grill. Cook over high heat 3 to 5 minutes per side. (Or cook under broiler in oven.)
Heat reserved marinade in small pan to a boil.
Slice the steak by cutting across the grain into 1/4-inch thick slices. Serve with heated marinade as a sauce.