Nohoko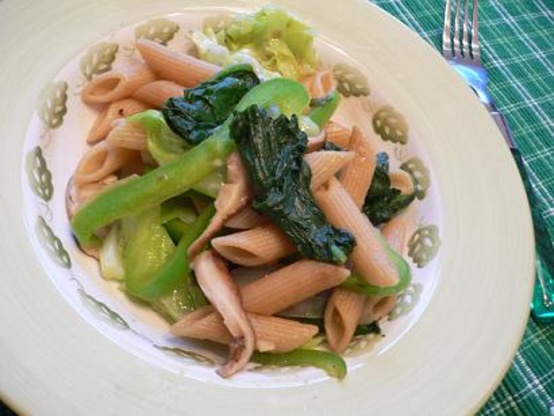 I love pasta and usually cook them with basic Italian sauces such as marinara and alfredo, but sometimes cook light with the flavor of soy sauce. This is also good for cleaning up vegetables in your refrigerator on weekend.

This was a great recipe, full of fresh veggies and wonderful flavor. We recently bought a new kind of soy sauce that was recommended by a wine magazine in our area (interesting similarities!) and this was a great way to give it a try. In the future I might try to add some extra heat with some red pepper flakes or chili oil, but it's a good simple and hearty dish all on its own too. Thanks Nohoko!
Prepare pasta according to package directions and drain well.
In a large frying pan over high heat, cook ginger root and green onion in extra virgin olive oil until fragrant.
Add green cabbage, green pepper, yellow onion and shiitake mushrooms into the pan and stir fry until the cabbage turns soft.
Turn heat to medium-high and add spinach into the pan, stirring constantly. Season with salt and pepper.
Add penne into the pan and stir for 1 minute. Sprinkle soy sauce over the pan. Serve hot.